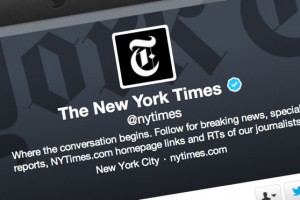 New York Time's social network policy
In a largely commented article a few months ago, the New York Times explained its strategy about social networks.
Excerpts : If a tweet worked once, send it again – and other lessons from The New York Times' social media desk. The team that runs the Times' Twitter accounts looked back on what they learned — what worked, what didn't — from running @nytimes in 2013.
The social media desk at The New York Times expanded in 2013 with the addition of three editors and a broadening of our roles in the newsroom. Beyond editing Times social media accounts, our team devotes an increasing amount of labor to working with the paper's editors and reporters to integrate reader engagement into our most important journalism. But with nearly 5 million more people following @nytimes in 2013, more and more consumers of The Times are finding their way to our journalism using our main presence on Twitter.
For that reason, we took stock of what worked and what didn't on @nytimes. We examined some of 2013's most successful tweets, measured in terms of clickthroughs and retweets, to see what connects with these readers and where our investment of editorial effort really paid off (the data comes from SocialFlow, whose system the Times uses to manage some of its major Twitter accounts). We also looked at some of our strategies and tactics to encourage a variety of types of reader engagement with our journalism using Twitter.
Here are some lessons we learned in 2013 from what we did on @nytimes and other institutional Twitter accounts.